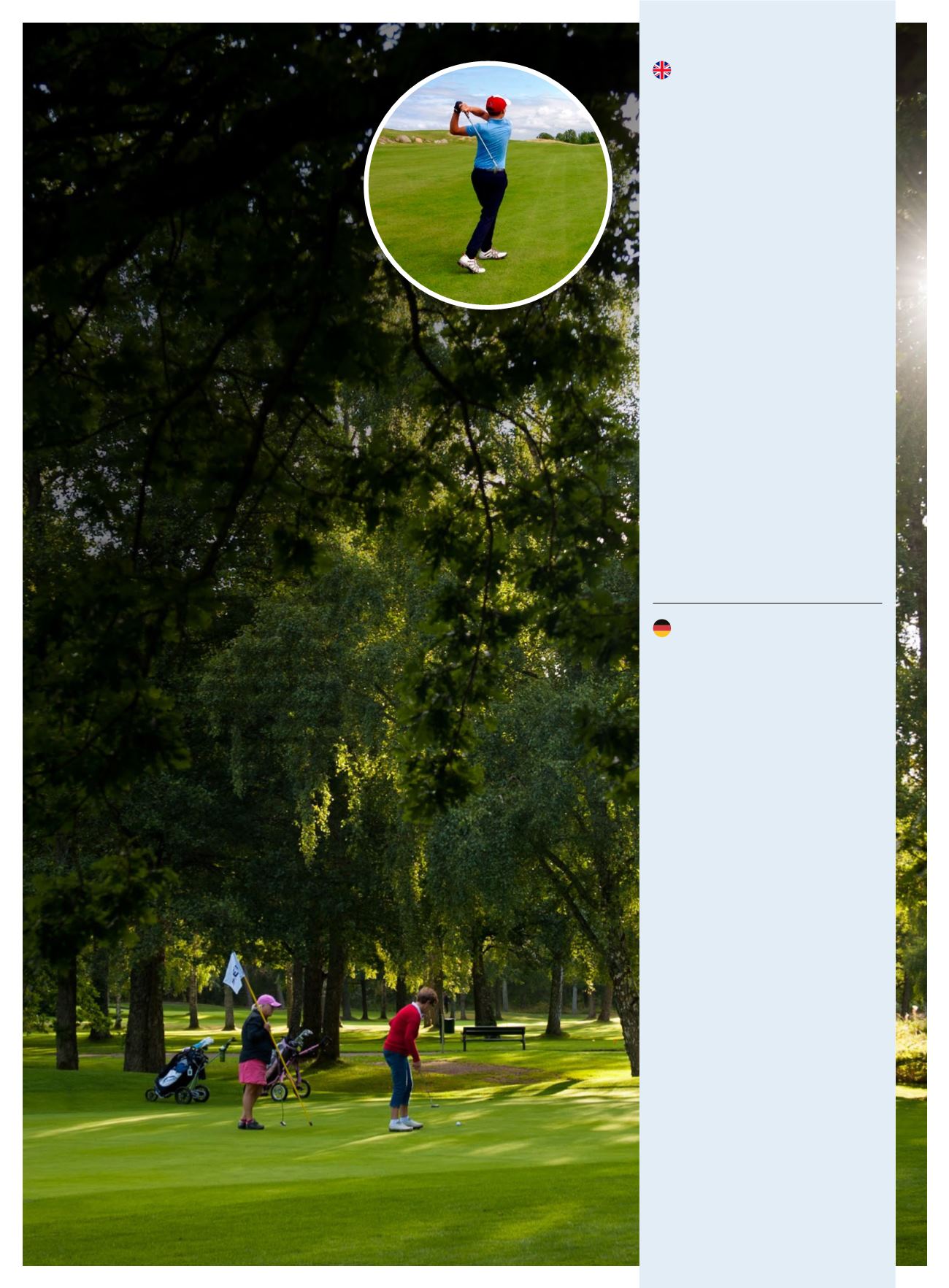 www.lackokinnekulle.se
•
9
Spela golf
FÅ SPORTER KAN
mäta sig med den na-
turupplevelse som en lyckad golfrunda skän-
ker. Destination Läckö-Kinnekulle erbjuder
fyra variationsrika och utmanande golfbanor
i ett kulturhistoriskt landskap, och med all
tänkbar service runt omkring som krävs för
en lyckad upplevelse. Närheten till Vänerns
stränder och möjligheten till ett uppfriskande
bad mellan rundorna blir en extra krydda.
Endast ett par minuter från Lidköping lig-
ger Lidköpings Golfklubb – en välskött och
omväxlande parkbana, som under de senaste
åren genomgått en större renovering under
ledning av arkitekten Peter Chamberlain.
Två och en halv mil öster om Lidköping
finns Lundsbrunns Golfklubb, en lätt kuperad
parkbana som är anlagd för att ge en både
spännande och utmanande golfupplevelse.
Banan erbjuder stora variationer med allt
från öppna landskap, träddungar och skog till
mindre sjöar.
På vägen ut till Läckö Slott hittar du Läckö
Golfklubb. Den här banan löper mellan na-
tursköna ekdungar och kullar, och ligger på
historisk mark som en gång ägdes av Magnus
Gabriel De la Gardie.
För den som saknar grönt kort men gärna
vill prova att spela golf erbjuder Filsbäcks
Golf & Sport Pay`n Play en rolig 12-hålsbana
med dammar och kuperad terräng. Banan
ligger fyra kilometer öster om Lidköping, på
vägen mot Götene. Här finns även en driving
range med tio platser under tak – och givetvis
finns golfklubbor att hyra på plats.
HIKING & GOLFING
Destination Läckö-Kinnekulle has numerous
hiking trails running through magnificent and va-
ried landscapes. Kinnekulle hiking trail is the lon-
gest – a 45 km easy-to-hike trail around the who-
le of this magical mountain. For those looking to
take it a little easier, there are plenty of shorter
options to choose from. The island of Kållandsö
boasts several excellent hiking trails: Traneberg
7 km, Roparudden 4 km, and Kinneviken 3 km, all
through varied and relatively easy terrain.
One family-friendly hike is the 3 km Sörbo trail
on the outskirts of Lundsbrunn. The path enters
a deep ravine, formed after the end of the last
ice age when the area suffered a large landslide.
And when refreshment is needed, you can al-
most always find a cosy picnic spot. You will also
find sheltered areas should you want to camp
out in the forest and countryside.
Hiking the pilgrim trails is also popular in this
area, which is filled with relics from mediaeval
history and the Christianisation of Sweden. An
old pilgrim trail runs all the way between Läckö,
Lidköping, Husaby and Forshem, marked by a
pilgrim symbol based on St Olav's cross. You
can walk the whole route or just enjoy shorter
sections, and it can be walked in both directions.
For a completely different type of challenging
activity, you can play golf on one of four courses
in these beautiful surroundings. Lidköping Golf
Club, Lundsbrunn Golf Club and Läckö Golf Club
are all worth a visit. If you do not have a green
card, you can check out Filsbäcks Golf & Sport
Pay 'n' Play, a fun 12-hole course.
WANDERN UND GOLFEN
Durch die Ferienregion Läckö-Kinnekulle führen
zahlreiche Wanderwege inmitten der herrlichen,
abwechslungsreichen Natur. Der längste davon
ist der Wanderweg Kinnekulle. Er führt über eine
Strecke von 45 km, aber in einer leichten Wan-
derung rund um diesen wundersamen Berg. Wer
eine kürzere Wanderung vorzieht, hat mehrere
Strecken zur Auswahl. Die Insel Kållandsö wartet
mit mehreren schönen Wanderwegen auf: Tra-
neberg (7 km), Roparudden (4 km) und Kinnevi-
ken (3 km). Alle verlaufen durch abwechslungs-
reiches, leichtes Gelände.
Für Familienmit Kindern eignet sich der 3 km lange
Sörboleden etwas außerhalb von Lundsbrunn. Der
Weg führt in eine tiefe Schlucht, die nach dem
Ende der Eiszeit durch einen gewaltigen Erdrutsch
entstand. Für müdeWanderer gibt es viele gemüt-
liche Rastplätze. Wer in der Wildnis übernachten
möchte, findet hier außerdemWindschutzhütten.
In dieser Gegend, die so viele Spuren aus dem
Mittelalter und aus der Zeit der Christianisierung
Schwedens aufweist, ist auch das Wandern auf
Pilgerwegen sehr beliebt. Der Weg über Läckö-
Lidköping-Husaby-Forshem führt einen alten
Pilgerweg entlang, der mit dem St.-Olavs-Kreuz
markiert ist. Sie können entweder den ganzen
Weg oder einzelne Etappen davon laufen – egal, in
welcher Richtung.
Wandern einmal anders: Wie wäre es mit einer
Runde Golf auf einem der vier Golfplätze in die-
ser wundervollen Landschaft? Die Golfplätze von
Lidköpings Golfklubb, Lundsbrunns Golfklubb und
Läckö Golfklubb sind alle einen Besuch wert. Wer
nicht imBesitz einer grünen Golfkarte ist, kann auf
der 12-Loch-Anlage Filsbäcks Golf & Sport Pay'n
Play spielen.